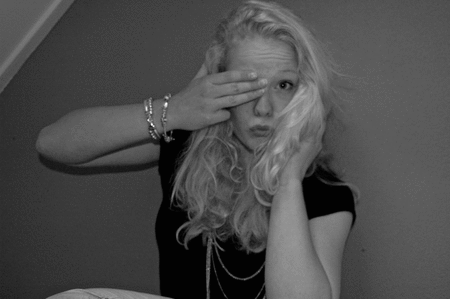 Heeee allemaal, woehoee, ik heb een account op lookbook, ik had me gisteren aangemeld, en ze hebben me vandaag geaccepteerd, they 'like my style'. De link naar m'n lookbook is: 
http://lookbook.nu/tess
 (niet dat er al veel op staat).. Dat was het goede nieuws van vandaag, verder moet ik 3 so's leren, heb ik knallende koppijn omdat ik een hockeystick tegen m'n hoofd heb gehad vanmiddag en heb ik ook nog eens een super zere rug (ik weet alleen niet hoe dat laatste komt). Nou, nu ga ik meteen weer leren, want ik kom echt geen meter vooruit... 
Hi everybody, woehoee, i've got an account on lookbook, i registered yesterday, and they accepted me today, they 'like my style'. The URL to my lookbook is:
http://lookbook.nu/tess
. (there's not much on it yet).. That was the good news of today, further I have to learn for 3 tested of tomorrow, I've got a banging headache of the hockeystick I've had against my head today and I've got a very painful back (I don't know how). Now I have to go study again, 'cause I'm not going very fast with it..
Oh, en fuck op dat ik een na-aperd ben van lisaplace, want er zijn genóeg bloggers die dit nog meer doen (fashionsquad en childhoodflames), dus het is gewoon in-spi-ra-tie, en niet na-apen.